EZ-base is proud to announce its collaboration with Troy in order to be able to offer its complete database solution in the UK as well. Within the new joint venture EZ-base will use its proven data management knowledge to support suppliers and members of Troy in the use of the EZ-base online Product Information Management System.
About Troy (UK)
Troy UK, prides itself on providing business services and solutions for its member distributors operating within the industrial supplies and tooling market. Having originated as a buying group, Troy UK has grown to become the largest in its marketplace, having more than £1.1b collective group trading power with more than 400 suppliers and 350 members.
About EZ-base
Over their 15 years' worth of experience, EZ-base has successfully built a digital 'data-bridge' between many suppliers and distributors from a range of countries and industries.  Their up-to-the-minute technology acquires, refines and standardises product data to ensure accuracy, consistency and brand integrity, with seamless updates continuing as and when released.
New EZ-base (UK)
The new sophisticated, secure, information warehouse – EZ-base is now ready to store and process suppliers' product data within the UK market.  Access to this data, will assist members to trade on-line efficiently, with ease, saving valuable time and money.  Required information will be extractable in a universal format, ready for uploading to ANY established or new online store.  And the benefits won't stop there, as the EZ-base technology will be able to assist in creating databases, online and printed promotional material and more
Suppliers Jump on Board
A number of astute suppliers are keen to work with EZ-base, immediately seeing the value of being able to control the quality and reliability of their data being used by countless retailers in the public domain.  Those already involved have been incredibly receptive – and it is clear that this solution is quickly being recognised as a must-have for any respected businesses.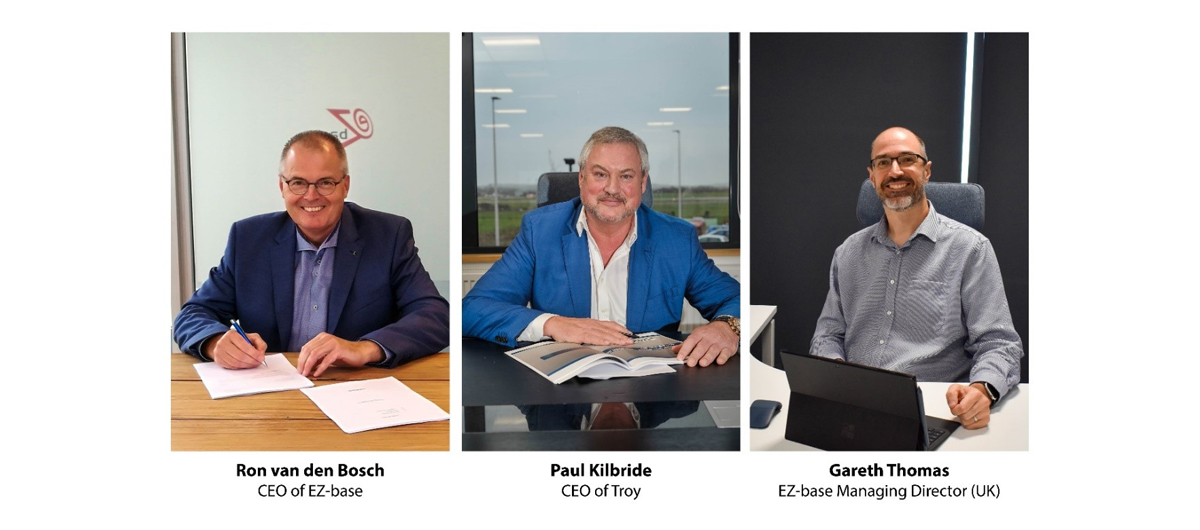 Future Partnership
The collective expertise and industry knowledge that the Troy (UK) and EZ-base partnership offers will ensure customers receive the best service in the business.
"There's no doubt that online trading is a priority for the Troy group, especially with the recent pandemic having a negative impact on sales in physical stores.  EZ-base will assist ecommerce by acting as a fundamental conduit between distributors and suppliers, with great benefits to be had on both sides.  Everyone involved has been working incredibly hard and we're excited to see this key 'game-changer' project come to fruition, ready for the next chapter in digital trading"
Gareth Thomas, EZ-base Managing Director (UK)
"I think we both realise that this is an important step for the further development of digital channels and digital information supply in hardware and tools industry in Great Britain.  I look forward to a constructive and successful relationship in the coming years."
Ron van den Bosch, CEO of EZ-base
In the coming weeks, the EZ-base team will be contacting Troy members and suppliers to discuss the fantastic benefits on offer.  However, to find out more in the meantime, please email info@ez-base.co.uk.
For further information please visit the dedicated EZ-base website www.ez-base.co.uk.
For more details about Troy (UK) please visit www.troyuk.co.uk.